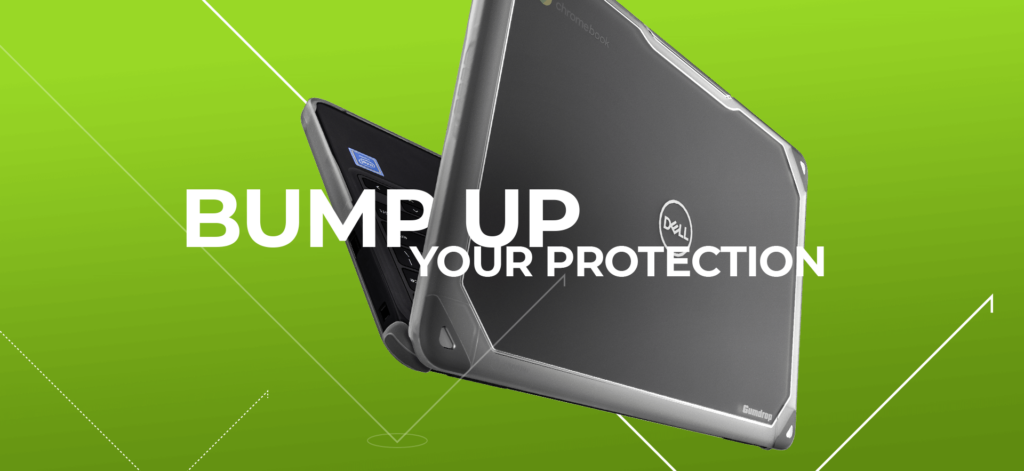 Even with the best laid plans, accidents happen. That's as true in life as it is in EdTech! But with the right layers of protection, you can be prepared for just about anything.
That's why we're excited to announce BUMPTECH + ACCIDENTAL DAMAGE PROTECTION. For the first time, we're combining Gumdrop's commitment to protection excellence with additional coverage that you can count on.
What's ADP?
Accidental Damage Protection (ADP) coverage is often offered by manufacturers to cover accidents like liquid spills, cracked screens and electrical surges. However, they don't usually cover cosmetic damage like scratches, dents and blemishes.
Why does that make a difference? While scratches and dents might not affect the performance of the device, cosmetic issues can greatly reduce things like resale value, which is a significant way schools can cut down on the lifetime costs of their devices.
Gumdrop + ADP
To provide protection that goes above and beyond, we've partnered with ADP companies like AGi Cases, Trox, Secured Tech Solutions, Worth Ave Group and Techcycle Solutions. For just $59.95 for non-touch devices and $79.95 for touch devices, you can bundle our custom-molded cases with 1 full year of Accidental Device Protection. Between rugged BumpTech cases and ADP insurance, schools and districts can ensure their investments are covered from every angle and keep working, school year after school year.
BumpTech Spotlight
Gumdrop BumpTech cases are custom-fit for a range of popular EdTech devices, including the Dell Chromebook 11 3180, HP Chromebook 11 G6 EE, HP Stream 11 Pro G4 EE and Dell Chromebook 5190 11-inch. The patented design enhances traditional hard clamshell cases with a shockproof bumper that wraps around the edges, protecting both corners and the screen. This helps BumpTech protect from 3-foot desk drops.
Additionally, BumpTech cases are thin enough to fit into any charging cart, and they have vents to keep devices cool and allow easy access to all ports. Because all Gumdrop cases are designed with schools in mind, BumpTech has plenty of classroom-friendly features, such as a clear back to allow for asset tagging and easy installation that takes only seconds.
Complete Peace of Mind
While ADP insurance might not be right for every deployment, it offers additional peace of mind and adds predictability into your maintenance budget. If you want to know more about this option, get in touch with one of our ADP experts today!