DropTech Case for the Acer Chromebook Tab 10
The most rugged and dependable drop protection for the Acer Chromebook Tab 10  is here! Gumdrop's DropTech rugged case offers multiple layers of custom molded, shock absorbing material to keep your tablet securely protected anywhere you go. 
All ports and controls are openly accessible, allowing for hassle-free functionality for all the features of your tablet. 
HEAVY DUTY CASE: The DropTech Acer Chromebook Tab 10  Case case remains tough as nails, able to take repeated drops without breaking a sweat.
RUGGED KICKSTAND: The rugged, durable kickstand allows the Acer Tab 10 to be used in typing or landscape mode easily.
KEEP YOUR ACER TAB 10 LOOKING LIKE NEW: Screen protector keeps scratches, smudges and spills at bay. Now it's more affordable than ever to keep your tablet in near perfect condition!
The DropTech Case for Acer Tab Chromebook 10 comes with a 1-year guarantee against breakage and damage to the case!
Key Features
Reinforced rubber bumpers on the corners and replaceable screen shield prevents scratches
Rugged kickstand allows the device to be used in typing and landscape modes. The stand lays flush with the back of the case and is self-repairing when pushed too far.
Clear back for easy asset tagging
Mil-Spec Certified: In an independent testing lab, the case (with device inside) was dropped 26 times from heights of 4 feet or more on all sides with ZERO damage to the device or the case.
Specifications
| | |
| --- | --- |
| Width | 9.47in |
| Height | 6.85in |
| Depth | 0.39in |
| Weight | 0.65lbs |
Specsheet
Instructions
Installation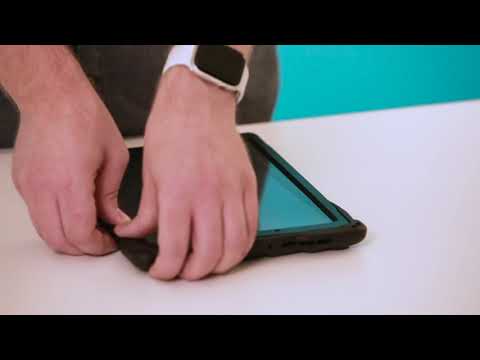 Installation Video
Fits well, no problem so far with the first 400 deployed
There is a short learning curve to getting this down, but after about five of them we had a very fast system. Fit seems perfect, the students love it so far. If I end up getting any returns or complaints I will update my review.
DropTech Acer Tab 10 Chromebook Case