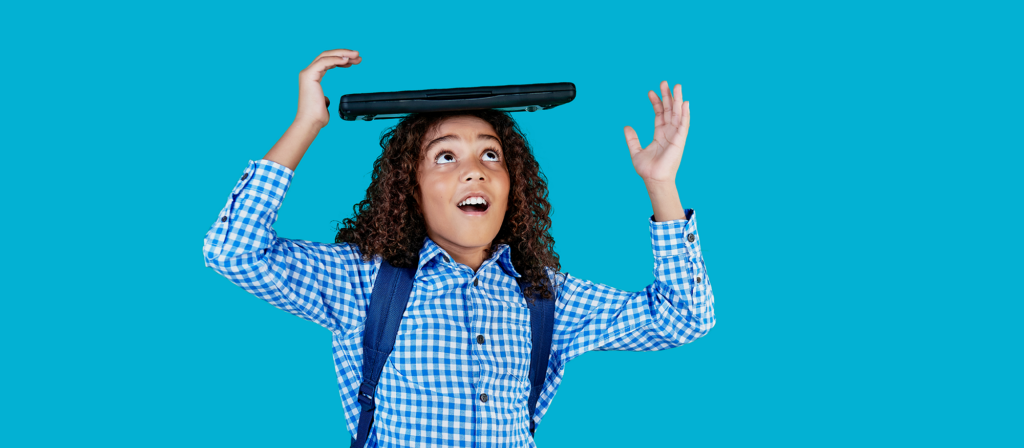 Selecting the right learning devices for your students is a tough decision and one that requires a lot of research and consideration. Purchasing devices is a big financial investment that needs to last for several years. Budgets are tight and don't allow for buying new devices next year if they don't work out. Decision makers must also consider if new devices will improve student learning and be easy for them to use. Overly complex hardware and software won't help your students or staff. Matching their needs and capabilities with the right device is key. Finally, choosing the right level of protection for your student population is critical to making those devices last and survive the daily wear they are about to be put through. Here are several key questions and considerations you should include in your device evaluation:
Age. How old are your students? Younger students tend to be a bit harder on devices than older students, but you're more familiar with your students than anyone. What type of damage do you tend to see with your current devices?
Commuting. Do your devices stay in school or do they go home with students? The latter has become increasingly more common, but if your devices stay at school overnight, tucked safely into charge carts, extra durable protection might be unnecessary. However, if devices are getting packed into backpacks and bounced around on buses, rugged products like our DropTech collection is a good solution.
Environment. Do your students always use their devices at their desk, or do they move from classroom to classroom? Do they take devices outside, into the science lab or other higher-risk environments?
Specific Specifications
Beyond your student population and device use cases, there are more factors that must be considered when picking the right protection. They include:
Screen protection. The dreaded spiderweb of glass cracking or the damaged pixels of a laptop screen are enough to make every IT staff member wince. According to our survey of ITDMs, screens are the most damaged feature at 72%.
For example, screen repairs on a Dell Latitude 3190 can run around fifty dollars in hardware alone. Pair that with labor, and the cost of one repair is already higher than the cost of a Dell Latitude 3190 DropTech case.
Asset Management. Keeping track of each item in your deployment is key. Some cases, while offering strong protection, block the back of the device, obscuring asset tags. In order for cases to work in the school environment, they must be easily scannable and trackable.
Gumdrop cases were designed with K-12 classrooms in mind. That's why Gumdrop protective cases always anticipate the needs of IT departments and teachers when it comes to device usage. Choosing a case that makes fleet management more streamlined will save time and sanity!
Installation. Speaking of simplifying things, installation time is no small consideration. Putting on one case might take a minute or two… but thousands? It's important to know what you're getting yourself into and select cases that install quickly! A case that is just 30-seconds faster to install doesn't sound like much but installing on 1,000 devices is over an 8-hour difference! That's a full workday lost. Every second adds up over an entire deployment.
Some protective cases on the market require adhesives or multi-step installations. Gumdrop cases, like the DropTech for HP ProBook x360, snap on in seconds, no adhesive required. Your staff will thank you when it comes time to install hundreds or thousands of cases!
Try Before You Buy
Whether you're deciding between brands or between lines – like Gumdrop DropTech vs Gumdrop SlimTech – it's important to get hands-on experience. The Gumdrop sample program allows you to try items before you buy them to make sure they are exactly what you're looking for. We know that protecting a whole deployment's worth of devices is a big decision, and we believe you should have all the information at your fingertips… literally!
DropTech vs. SlimTech
Gumdrop cases are designed to cater to a range of needs, including protection level and budget. So how can you decide between the different lines? As stated above, be sure to try out some samples! A few other factors include:
DropTech:
Great for devices that students take back and forth to school
Survives falls of several feet, making them ideal for younger students
Premium protection
SlimTech:
Great for devices that stay at school or in the charging cart overnight
Lightweight but strong protection that's ideal for older students
Protects against bumps and scratches at a budget-friendly price
Making sure your devices last for as long as possible is so dependent on preparation. With a bit of research and testing, you can find the cases that best fit your student population and keep devices in service longer than ever.Making sure your devices last for as long as possible is so dependent on preparation. With a bit of research and testing, you can find the cases that best fit your student population and keep devices in service longer than ever.