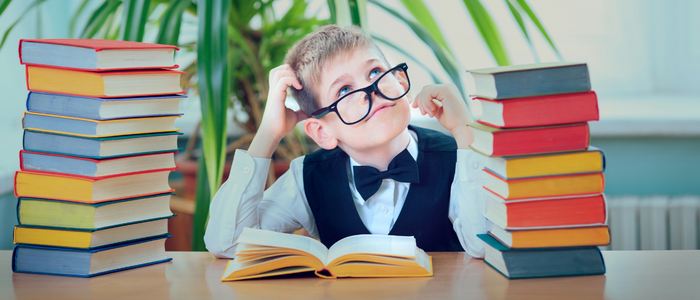 When committing to purchasing protective cases for your school district technology investment, there are so many questions that need to be entertained to ensure you are getting the best product to meet your needs. At Gumdrop, we're here to help guide you through the process and ultimately keep your classroom devices safe for years to come.
With so many questions and case options on the market, Gumdrop wants to help! Here are the top 10 things to think about when purchasing cases for student Chromebooks, laptop, or iPad devices:
---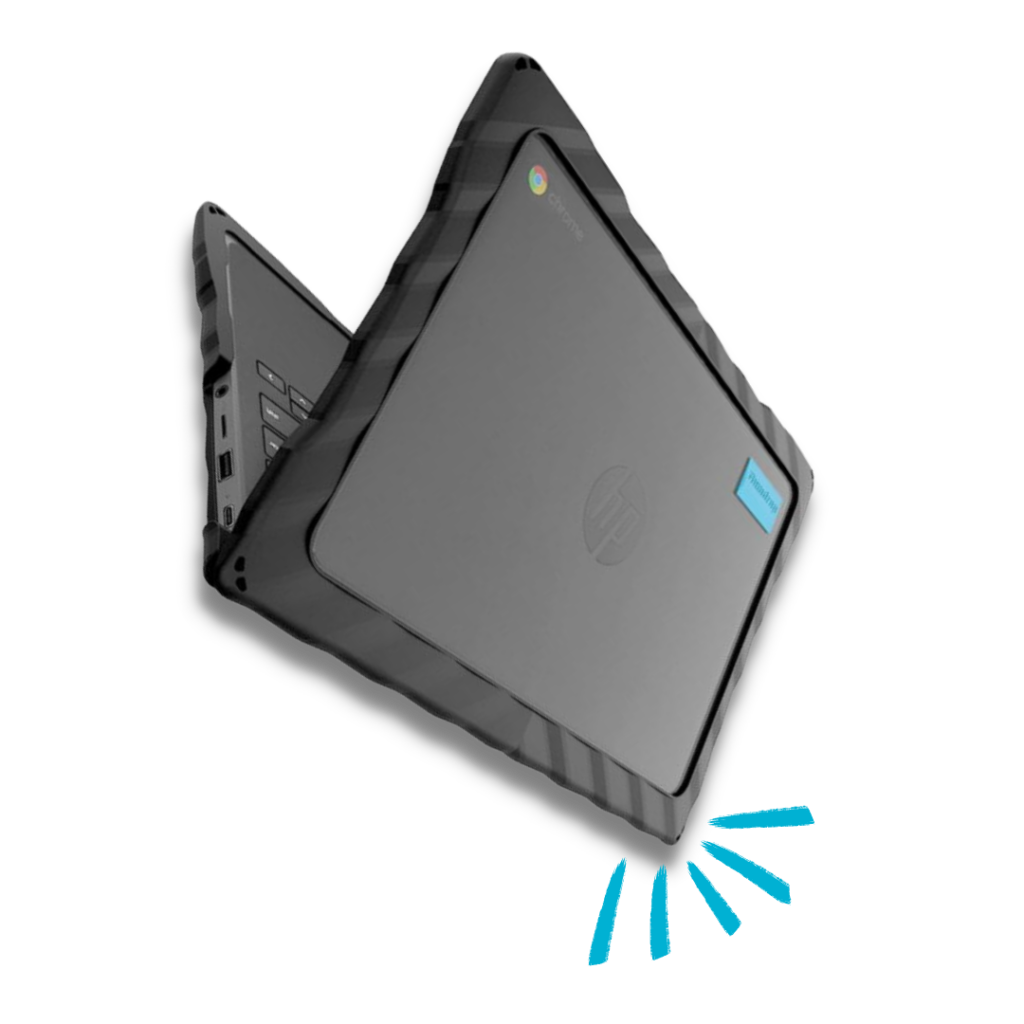 1. Is the case drop-tested? What standards are they tested against?
At Gumdrop, our cases have been put to the test! TechShell, a third-party, standardized testing company, certifies our cases been through significant drop testing. This includes a consistent 26 drop standard in order to pass anywhere from two (2) to six (6) feet drop protection and is what puts TechShell Certification ahead of mil-spec ratings. Additionally, our complete TechShell data reports are also easily available upon request.
2. Does the case have a two-part design that slides on for easy deployment?
Our installation is so easy, even students can do it! We utilize a slide and click system with our two-part Chromebook and laptop cases- you slide the device into the appropriate case panel and lightly press to click and secure the case. The best part? Our cases take less than 30 seconds to install and are tough for little hands to take off so removal by students shouldn't be an issue.
3. Does the case offer eight (8) corners of protection?
Gumdrop cases make sure ALL your device corners are protected, unlike the other guys. We know that both the screen and base are equally crucial to successful learning, so we ensure that all eight (8) corners are protected with air-cell corners for great shock absorption. Our DropTech models are particularly reinforced with rugged, rubberized bumpers to handle all the "oops" moments that may happen when the device is in little hands.
4. What materials are used in the case? Are they going to withstand drops and damage?
We make sure to use the very best to protect your investments. Majority of our cases are made of solid polycarbonate that also offers flexibility during drops, and rubberized TPU bumpers that offer cushion and bounce during any bumps or drops. We also choose not to use fabric or overly soft materials in any of our cases, as over time the wear and tear just doesn't hold up over the course of the device's life in the K-12 classroom. Avoiding materials that students can easily damage is an important part to the quality and durability of Gumdrop products.
5. Will the screen or the keyboard be taking the brunt of an impact if the device were to fall?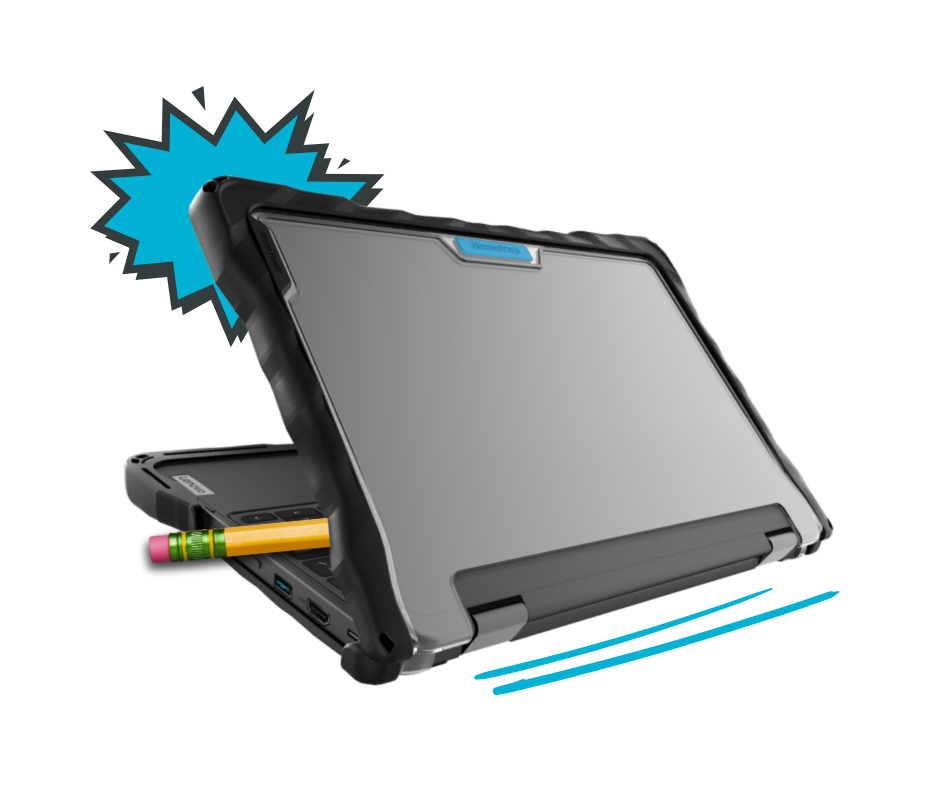 Gumdrop cases are designed so that the energy from a fall is equally distributed between the screen and base of the device. -it is also where all the energy from a drop will be absorbed. It's not a good equation when you factor in any bumps, drops, or falls the classroom may hold. On some cases, we have even incorporated a slightly longer lower lip to aid in dispersing energy from the screen to offer the most rugged protection possible.
6. What warranty terms is the company offering with the purchase of their product
We trust our cases to hold up against everything life may throw at it, but just in case Gumdrop also offers a warranty program. For one year we will cover manufacturing defects in materials and workmanship with repair or replacement products.
7. Does the case aid in the asset tagging process? Do you have to remove the case to scan the device?
Gumdrop knows that deploying hundreds or thousands of devices and cases is an arduous task filled with just as much asset tagging and scanning. We choose to use transparent panels rather than frosted in all our cases so scanning is a breeze as devices are flying out the door and into waiting student and staff hands.
8. Does the case style make sense for the age of your users?
We have cases to fit every age of user at the durability level that they need. When designing, we consider all the ways that students could damage our cases to ensure we don't have any susceptible areas. Our younger students will love our cushioned FoamTech case for iPads, or the rubberized bumpers of our DropTech line. Whereas older students and many staff members will enjoy our sleek and lightweight SlimTech line. Schools have a wide range of users and we are committed to finding the right cases for you.
9. Are your school district's devices kept at school or are they taken home each day?
Our DropTech and SlimTech lines were designed with this factor in mind! Our SlimTech line is sleek and lightweight. It's easy to slip in and out of backpacks, making it perfect for take-home programs for older students, but ultimately is optimized for classroom use and not travel. The DropTech line, with its heavy-duty bumpers, is great for take-home programs. If students are mobile, more wrap-around cushioning is needed and that is exactly what DropTech provides.
10. Lastly, have you ordered samples and received feedback from primary device holders?
Investing in device protection for a whole school or district is a big step. Having teachers and students test out cases in a practical environment and gathering their feedback will only aid in your decision-making and make your investment all the more worthwhile. According to edtech company Clever, 60% of teachers report that their administrators hardly or never ask for their feedback when it comes to edtech-related decisions. Majority of district tech is utilized by the student and teacher population; they are key stakeholders in this decision too. At Gumdrop, it's easy to order samples to get our cases in the hands of your most important users to have them experience the quality and durability Gumdrop has to offer.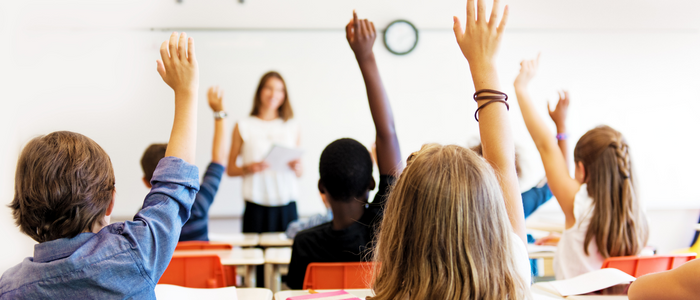 We're here every step of the way to make sure your device protection needs are met. Interested in trying Gumdrop? Click here to request a free sample or quote!
Click here to download a free copy of the device case research checklist instantly.