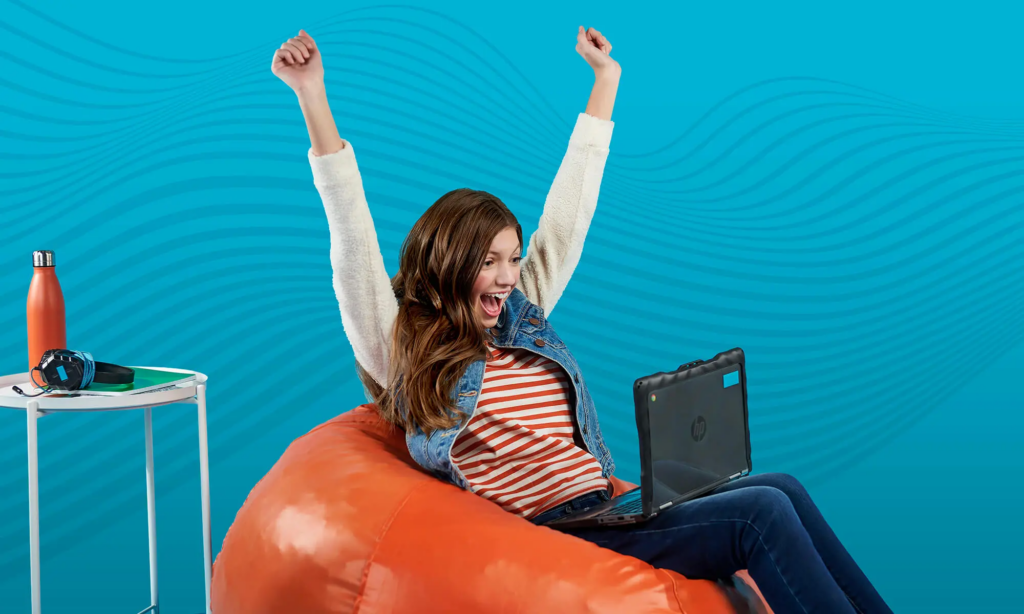 Drop Resistant & Student-Proof Cases for the Classroom
The rain is pounding down outside and you plus 25 of your favorite scholars are making a fair attempt to enjoy the dreaded indoor recess with a game of silent ball. The perfect indoor recess game- silent, a soft ball, captures everyone's attention. (Learn how to play here!) You have a few students opting to watch tiny cooking shows on YouTube, laptops balanced on knees and laps scattered around the room. It's peaceful, the perfect indoor recess.
Then chaos erupts. A student, innocently in the line of fire, gets accosted by the silent ball and their Chromebook is knocked from their knees, hitting another desk on its way down in a clanging bang. Kids are yelling, the desk is ringing, the silent ball mauled student is perfectly fine (Yay for a soft ball!) but the Chromebook, you're terrified to see how that faired. A screen crack, blue screen of death, or broken hinges shouldn't have to be a worry at this moment.
Gumdrop knows this is a very true reality in classrooms. Devices inadvertently get knocked around, bumped, or dropped on the daily in the hands of students. To combat this, Gumdrop partnered with the third-party testing company, TechShell, to ensure our cases are certifiably rugged and ready to deliver the ultimate protection. Why TechShell? Just like you, we care about standards, which is exactly what TechShell provides.
TechShell Certifies Laptop & Tablet Cases
At its core, TechShell is an independent, standardized testing certification for technology cases. Unique in the industry, TechShell Certification is the only entity that has created specific benchmarks for cases to meet in order to be granted certification. While many companies boast about meeting military specifications, there are actually no standards to meet in order to use the label "meets MIL-STD 810." When it comes to protective cases, the term military specifications have no true meaning, standards or guarantees. It's just a term that sounds tough. We saw how that was a subjective label to utilize and knew we needed better for Gumdrop's cases.
TechShell Lab Test Requirements
When a case is TechShell certified it means it has gone through a series of standardized tests. TechShell testing includes rigorous Drop Testing, Sharp and Edge Point Testing, Temperature Condition Cycling Testing, as well as being compliant with the California Prop 65 Testing. TechShell is also committed to being open about its testing process, including having testing reports available upon request. Any case with a TechShell badge certifies that case passed these strict testing requirements.
TechShell Laptop and Tablet Certification Levels

TechShell Certification currently comes in four distinct levels depending on drop test height. Referring to the above graphic, you'll see the Basic Certification is tested at two feet, Strong at three feet, Rugged at four feet, and Extreme Certification at six feet. All are dropped 26 times.
Additionally, TechShell Certification also includes Sharp and Edge Point Testing, a standard test within the toy industry. Children will be using our cases and having that peace of mind that they were tested with kids in mind is valuable. You'll also see TechShell ensures the case is tested to withstand extreme temperatures, accounting for kids accidentally leaving their tech on heaters or in the car in the dead of winter; the tech might be in trouble, but your case should be warp-free.
TechShell is also compliant with CA Prop 65, ensuring that all the materials used for protective cases desist from the list of chemicals known to cause cancer, congenital disabilities, or other reproductive harm, in contrast to Mil-Spec.
Gumdrop + TechShell
Gumdrop has always been known to produce top-quality protective cases and by partnering with TechShell, our cases now meet a set standard beyond any Mil-Spec label. The classroom can be an unpredictable place but keeping tech safe and protecting district investments shouldn't be a worry on your mind. Gumdrop + TechShell certification means our cases are backed by five patents and you can be confident that when you buy Gumdrop that your school will be protected by the best quality testing standards that are on the market. Whether it's an attack of the silent ball, a bump of a desk, or any tumbles in between, Gumdrop has a plethora of device cases to meet your needs.
---

To learn more about purchasing TechShell certified cases, contact your Gumdrop representative or click this link to complete a short request form.