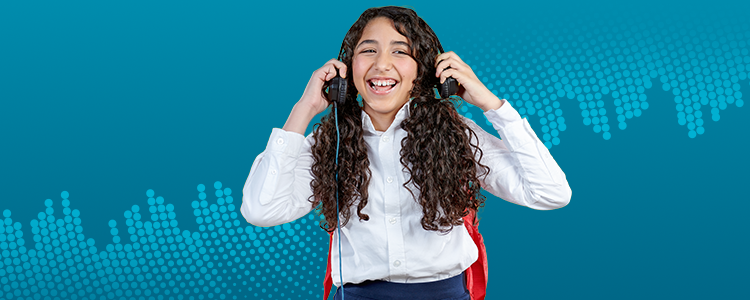 In the 21st century classroom, students having access to quality audio solutions is a must. From audiobooks to state testing, there are a myriad of different applications where headphones can aid in the learning experience. Unfortunately, many schools either rely on parents to provide headphones or purchase cheap, throw-a-way earbuds that they toss at the end of testing season. This creates equity issues and contributes to the growing concern of e-waste in our landfills.
Investing in quality, rugged headphones for your school means you'll provide an immersive and accessible testing experience for students, enrichment opportunities, and sustainable audio solutions that will last year after year, paying for themselves!
Accessible Testing
During state tests, students sometimes have the ability to listen to test question instructions or audio versions of the texts they are reading to better help their understanding. This is great tool for students with disabilities and in some instances, general education students benefit from the audio immersion as well.
When schools provide headphones for students, this removes the hurdles of equitable access while also opening up accessibility to the assessments. A bonus is that even if students aren't listening to instructions or texts, the headphones work as a fantastic sound buffer to help students focus on the tasks in front of them, especially when compared to flimsy earbuds.
Enrichment Opportunities
Another great aspect to investing in quality school headphones is that the life of the headphones doesn't end when state testing is over. At that point, they are just getting broken in! Headphones can be used in classrooms for audiobooks, video learning, podcasts, increasing focus, and more.
At Gumdrop, our headphones are chew-proof and adjustable, perfect for a library media classroom servicing all ages. It's important to invest in audio solutions that will grow with students and can be used in many different ways. You should get the most bang for your buck, helping headphones pay for themselves.
Substantiality
So many items in classrooms are consumables. Teachers are already sending dead markers, broken pencils, and who knows what else to the landfill every year- help your school go green by purchasing headphones that will last. With 50 million tons of e-waste heading to landfills worldwide every year, reducing that waste at all costs matters. Durable student headphones will mean more use and less trash than buying and tossing out cheap earbuds once testing season is over. This is also a huge benefit to your IT department. The time it takes to purchase, organize, and track cheaper earbuds year after year is gifted back to the team. They now spend significantly less time on the process thanks to higher-quality headphones. Less e-waste in landfills and a more sustainable workload for your tech department. It's a win-win.
We recommend investing in quality student headphones for state testing and then repurposing them throughout the school for enriching activities until the next testing season rolls around. Gumdrop DropTech B1 Headphones were made for this. With their rugged six (6) foot drop protection, easy-to-clean ear pads, and adjustable headband, our audio solutions will get you from testing season to testing season and everywhere else in between.
Interested in trying DropTech Headphones for your school? Click here to request a free sample!